The Shops at Pineda Ridge, Melbourne, FL
30,000 SF, 3.86 acres, $6.5M project cost                             
Key Responsibilities: Site selection, contract negotiations, entitlements, financial analysis, pro forma responsibilities, site plan design, and Anchor tenant marketing/sales negotiations.
Project Summary:  The game plan was to purchase 34 acres in phases from the land seller, sell the initial phased purchase of 20 acres to Home Depot, and option back a 3.86 acre outparcel for approximately 30,000 sq. ft. of small shops. Along the way, we had to annex the site from county to city; mitigate wetlands, gopher tortoises, and scrub jays; and resolve a very lengthy public battle between city and county over concurrency related issues.
Results:  Opened in 2006, The Shops at Pineda Ridge is a two-building retail strip center, shadow-anchored by The Home Depot. The property features attractive architecture, landscaping and was roughly 95% occupied at the time of its disposition.
Key Tenants:  The Home Depot, Cingular Wireless, Quizno's, Batteries Plus, CitiFinancial, and Space Coast Credit Union.
---
Pei Wei-BurgerFI
Fort Myers, FL
Project Summary: 1 acre vacant lot to a hotel anchored DRI acquired for cash and developed into a 6,000 sf multi-tenant development.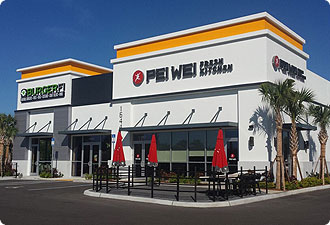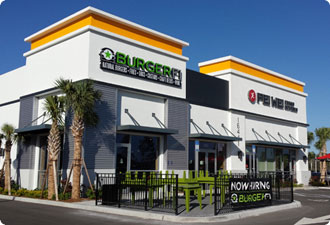 ---
Aspen Dental-Vitamin Shoppe
Venice, FL
Project Summary: Former 0.8 acre Sonic restaurant was an REO property, acquired for cash and redeveloped into a 7,000 sf multi-tenant development.